Mr.Dubs and I had the week of Memorial Day scheduled off from work for a couple of months. We were contemplating booking a trip/"babymoon," but weren't really diligent about making any solid travel plans. I was weary of how I'd be feeling, Mr.Dubs was too stressed out with his lack of resources at work to even really look forward to having time off work.
Last month, Mr.Dubs got some information on a timeshare that his parents have had for quite a few years. So we looked up a few ideas here and there for a short getaway, but in the end, the booking complications with the timeshare agency got to be too much for either of us to really want to book a trip through that program.
As this week approached, (and I mean just last week!), I slowly came to terms with the fact that we'd turn it into a "stay-cation" and maybe get started on cleaning out the room that will be the future baby nursery. I had no expectations in mind, so needless to say, Mr.Dubs completely blew me away when he found an amazing deal for non-stop flights and a 5 day/4 night stay at the South Seas Inn Resort on Captiva Island, FL! Talk about a last minute DEAL!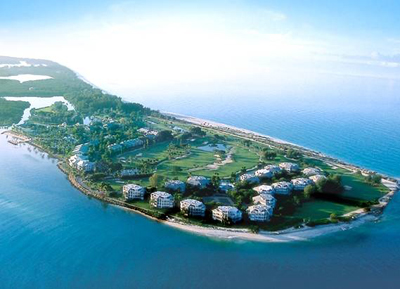 Aerial View of South Seas Island Resort
(Source)
We talked it over, read some reviews, and bit the bullet and booked our trip a week before takeoff! Due to our TTC/baby schedule in 2012, Mr.Dubs and I had planned on saving more money and forgoing our annual vacation(s) this year. So this was a nice, unexpected treat for the both of us. And we're both glad we decided to book the trip. It will be a long while before we vacation (with or without) our future LO, so we want to make sure to enjoy this time while we can!
A picture update to come soon!